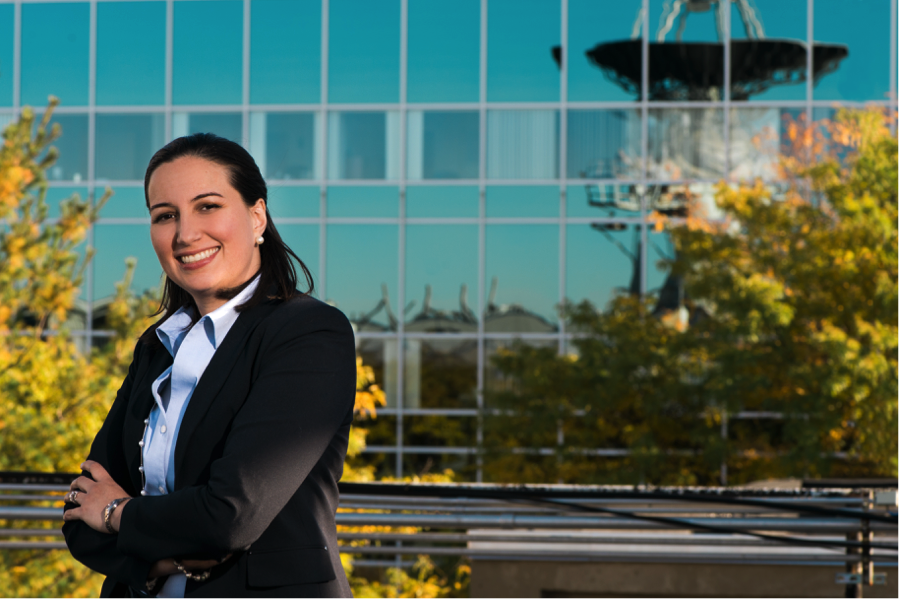 Mabel Ramirez
Dr. Mabel Ramirez, an assistant leader of the Advanced Concepts and Technologies Group at MIT Lincoln Laboratory, was recognized as one of Boston's "best and brightest young professionals" by Boston Business Journal (BBJ) for its 40 Under 40 Class of 2016. Each year, the BBJ selects from a wide variety of for-profit, nonprofit, and government sectors the top achievers, innovators, and leaders whose work is making a significant impact on Massachusetts industry and communities.
"It was an honor to receive the award," said Ramirez. "I share this recognition with a phenomenal group of professionals that truly understand the value of teamwork, have the desire to help and inspire others to reach their maximum potential, and are devoted to making a difference in our communities."
A panel of editors chose the 40 Under 40 honorees from more than 300 nominations. The panel based their selections on each nominee's local business and industry influence, volunteer work, and other forms of philanthropy. The winners were honored at an awards ceremony and reception in downtown Boston on 20 October.
"We couldn't be more proud of this year's class of 40 Under 40," said BBJ Market President and Publisher Carolyn Jones. "The 40 young professionals chosen this year represent the best and brightest the state has to offer, and it certainly bodes well for the future of the commonwealth."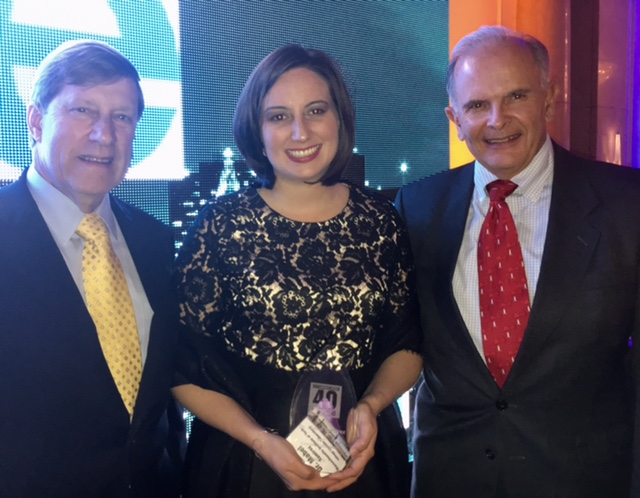 Dr. Ramirez joined Lincoln Laboratory as a technical staff member in 2010 and initially worked on ballistic missile defense problems, leading the data analysis and exploitation efforts for the Missile Defense Agency's X-band Transportable Radar. She subsequently moved into the research and development of air and maritime defense technologies. Collaborating with colleagues from various divisions across the Laboratory, Dr. Ramirez lends her expertise to numerous projects. One of the many exciting projects she leads is the development of Strike Group Defender—a serious game that uses human-machine interaction and machine learning techniques to enhance the training of Navy sailors on electronic warfare concepts.
Her varied technical interests include systems analysis and architectures, electronic warfare concepts, advanced sensing concepts, signal processing, machine learning, and radar systems. "While working at Lincoln Laboratory, you get a sense of satisfaction in knowing that you are focused on developing impactful technology to support national security," said Ramirez.
In 2015, Dr. Ramirez participated in the National Academy of Engineering's U.S. Frontiers of Engineering Symposium, an elite event that brings together the nation's outstanding early-career engineers from industry, academia, and government to discuss pioneering technical and leading-edge research in various engineering fields and industry sectors. Dr. Ramirez was selected to participate in the symposium because of her accomplishments in research and technical work and her demonstrated interest in applying her knowledge to advance a broad range of engineering fields.
Dr. Ramirez is also heavily involved in professional development programs at the Laboratory, such as career mentoring. Ramirez credits her success to mentors David Martinez, Associate Division Head of Cyber Security and Information Sciences at Lincoln Laboratory and James Shields, former President of Draper Laboratory. "The Laboratory encourages employees to have the freedom to create and develop their own careers, and it also has a vast support system that enables its employees to navigate their own path," said Ramirez.
In addition to technical work, Dr. Ramirez participates in outreach programs that support the Boston-area community. She is an instructor for the Lincoln Laboratory Radar Introduction for Student Engineers (LLRISE), a free summer workshop in which Ramirez teaches high-school students how to build small range-Doppler radar systems. She is also a member of the Lincoln Laboratory Hispanic/Latino Network, an employee resource group whose mission is to provide a social community that fosters awareness of the rich Hispanic culture at the Laboratory. In addition to embracing educational and professional development, the network supports cultural and community outreach events in the Laboratory and surrounding areas.
Dr. Ramirez holds a doctorate in electrical engineering, with a specialization in applied electromagnetics, from the University of Colorado at Boulder and bachelor's and master's degrees in electrical engineering, with a specialization in signal processing, from the University of Puerto Rico at Mayagüez.
Republished under authorization of Communications and Community Outreach Office, Lincoln Laboratory, MIT – Original post by: Meg Cichon

If you wish to suggest the publication of a Featured ECE Female Alumni on our website, use this link. If you have questions about completing the form, see the tutorial.