Hoy lunes, 26 de abril a las 2pm, presentación abierta de UPRM en el US Department of Energy, Solar District Cup!
---
La Universidad de Puerto Rico Recinto de Mayaguez acaba de llegar primer lugar en la competencia Solar District Cup, Division de Denver. Hoy a las 2:00 p.m. participaran en la presentación abierta al público general. La presentación sera abierta al público y el ganador se decidira a base a las votaciones del publico. Pueden registrarse en este link y apoyarnos en este logro! Favor de enviar a sus estudiantes y contactos pues es la primera vez que Puerto Rico logra ganar en el US Solar District Cup. Acompañemos al Colegio en este logro!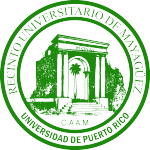 ---
If you wish to suggest the publication of a News on our website, use this link. If you have questions about completing the form, see the tutorial.