[metaslider id=1891]
Analog Parts Kit by Analog Devices : Companion Parts Kit for the Analog Discovery($79.00)
The Analog Parts Kit contains a large selection of components perfect for creating a wide variety of useful circuits and devices. Featuring components from Analog Devices®, the kit includes transistors, resistors, capacitors, diodes, sensors, and variety of useful ICs including op-amps, convertors, and regulators. Finally, the kit also comes with an assortment of lead wires, a solderless breadboard, and a screwdriver.
[metaslider id=1911]
Analog Discovery 100MSPS USB Oscilloscope & Logic Analyzer($191.00)
Turn any PC into a powerful electrical engineering workstation! The USB-powered Analog Discovery lets you measure, visualize, analyze, record, and control mixed analog and digital signal circuits of all kinds. It's small enough to fit in your pocket, but powerful enough to replace a stack of lab equipment. Driven by the free original WaveForms software, the Analog Discovery digital oscilloscope lets you build and test analog and digital circuits in virtually any environment, in or out of the lab.
Features:
2-channel 100MSPS 14-bit differential input oscilloscope
2-channel waveform generator
16-channel logic analyzer
16-channel digital pattern generator
±5VDC power supplies
Spectrum analyzer
Network analyzer
Voltmeter
Digital I/O
Now supported by MATLAB / MATLAB student edition
What's Included:
Analog Discovery scope & logic analyzer
Custom Digilent hardshell plastic case with protective foam
2×15 signal cable assembly (flywires)
USB A to micro-B cable
Ferrite choke/bead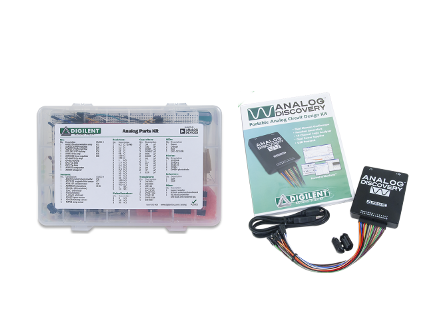 Combo Kit($249.00)
What's Included:
Analog Discovery 100MSPS USB Oscilloscope & Logic Analyzer

Analog Parts Kit by Analog Devices : Companion Parts Kit for the Analog Discovery
Procedimiento:
Si prefiere, puede pasar por la Oficina de Recaudaciones y pagar en ventanilla el número de cuenta FRS es 624015.  El pago deberá ser a la cuenta RECA 0246 Materiales Laboratorio Electrónica.  Luego de efectuar el  pago, por favor pase con su tarjeta de identificación por el Departamento de Ingeniería Eléctrica y Computadoras (S-224) para recoger la mercancía.  Si optó por pagar en ventanilla, deberá traer el recibo impreso.